Code please!

As a .NET developer you spend most of your day in Visual Studio. It's your home and you want your home to be as comfortable as possible.
Unfortunately, standard Visual Studio projects aren't very inviting. They are awkward to navigate with too many folders and subfolders for Controllers, Models, and Views. Not very homey.
Creating a homey project
Dofactory .NET fixes this with a project structure that you can call 'home'. As a first step, there is just one project in a solution, and this project has just 4 main folders.
Their names have been carefully chosen -- Areas, Code, Domain, and Data. Not only are they short and descriptive, they're also sorted by frequency of use.
The heat map below shows that the most frequently used folders are at the top (the red and reddish ones). This is perfect, because those folders are also the easiest to access.
Modules
Expanding the Areas folder we see the application's modules.
This app has 18 modules, one in each Area. But these are no ordinary Areas. They are Flat Areas, that is, Areas without subfolders. A Flat Area has all its files in a single folder including controllers, models, and views.
With a structure like this, your work is easier and much more enjoyable. Let's look at the Users module as an example.
You won't leave this folder when working on User pages. All files are at your fingertips.
Notice that views and model files have the same name, for example, Detail.cs and Detail.cshtml, Edit.cs and Edit.cshtml, and others. These files are sorted by name and each pair appears side by side. This is ideal!
Controllers
This application is low-code. What does this mean?.
Let's look at the UsersController. Just 38 lines of code for the entire controller!
The controller has two groups of action methods: CRUD and Ancillary (see comments above). CRUD stands for Create, Read, Update, and Delete, which are the fundamental record operations. Most controllers in the Ultra-Clean architecture have 5 CRUD action methods. Ancillary methods are application specific and their numbers usually vary from 0 to 4 or 5.
Looking at the action methods notice they all redirect their requests to their models. These models are no ViewModels, they are ActionModels, a new and exciting pattern.
ActionModels
An ActionModel is a ViewModel on steriods. Below is an outline of a typical ActionModel. This one handles the entire Edit request - both GET and POST.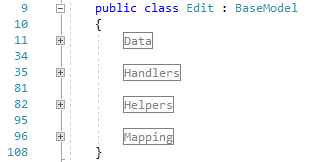 Most ActionModels have the same 4 regions: Data, Handlers, Helpers, and Mapping.
The Data region holds the posted data -- just like a ViewModel. The Handlers region processes the GET and POST requests. Helpers has optional helper methods. And Mapping is where AutoMapper mappings are defined, just for this Edit request.
An ActionModel is a single class that handles a request entirely by itself. It holds the posted data, and performs validation, data access, and object mapping -- totally encapsulated and in one place (i.e. SOLID).
So, if there is a bug on your Edit page, you know the one place where to go look (the Edit ActionModel) . Support and maintenance are super easy with ActionModels.
Some of you may see similarities with MediatR, but there really is no comparison: ActionModels are so much simpler and easier to work with.
Handlers
Let's have a quick look at the handlers which are methods that process a request. This one handles the List page (GET) request. It's called GetAsync.
This simple 5-line method renders the complete Opportunities list page you see below, including filters, sorting, and pagination. Quite amazing. And it does this with a single query without table joins (this is the Low-query pattern).
Pages like this are high performance, easy on the database, and also easy on you, the developer. Imagine your productivity in this environment!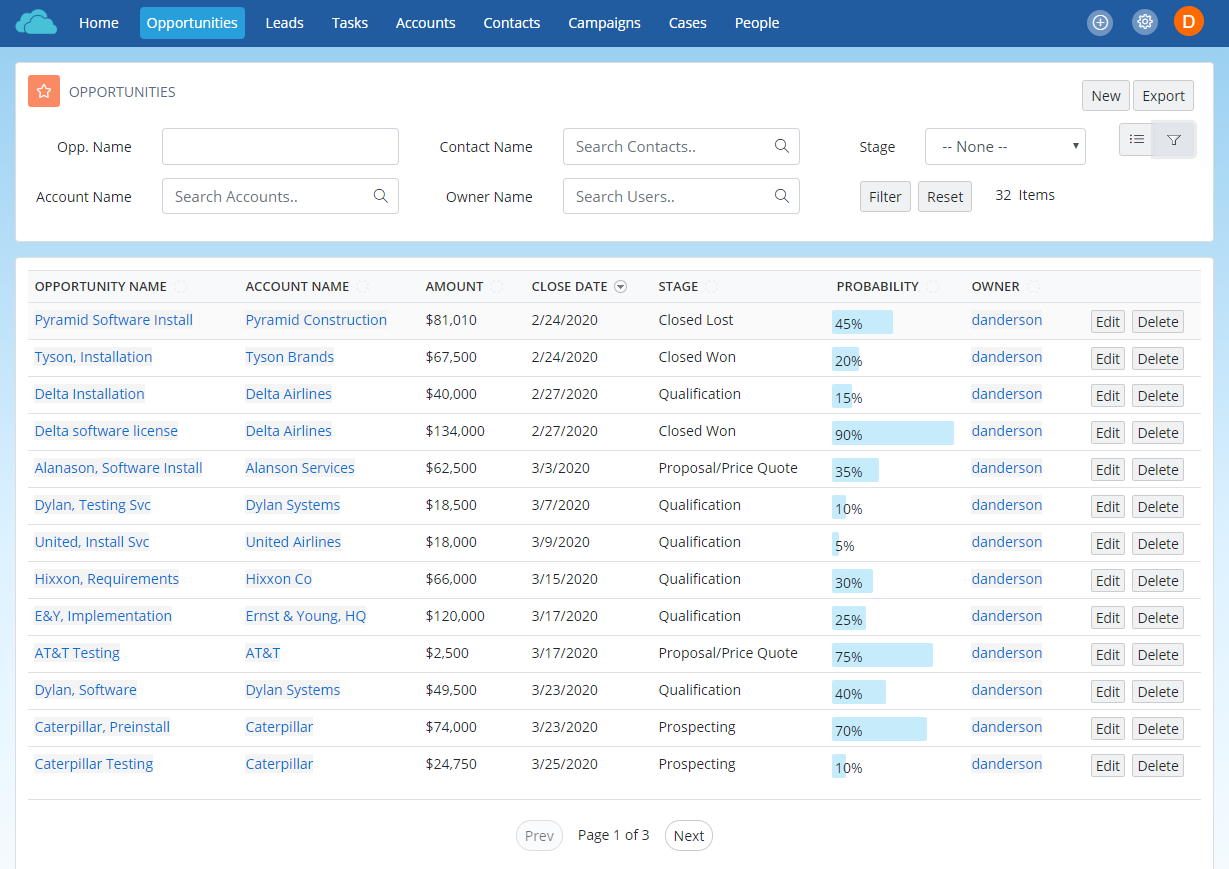 Dependency Injection
Did you notice there is no dependency injection in the above code examples? Neither in the Controller, nor in the ActionModels. Actually there is plenty, but it's handled entirely by a single base class, named BaseModel, using a revolutionary pattern called Lazy Injection.
Lazy Injection is a new and exciting pattern: it only returns a service when actually requested -- not when the class is created (which happens with constructor injection).
Lazy Injection makes coding so much easier. You simply focus on building your applications and not worry about what services to inject into your classes. In addition, your code runs faster because only services that are actually used will be created.